The biggest Christmas calendar in Munich
In one place of Munich there is no such transport movement, as on Donnersberger Bridge. Here always rush hour reigns, streams of cars is unceasing "flow" on numerous lanes of the Average Ring, down the street Arnulfshtrasse. About 180.000 cars pass here in a day. The motorists going along a usual route to work; the cars going from one area in another; transit vehicles. Add to it train service, roaring every minute under the bridge - suburban electric trains, long distance trains, post and transport trains. Donnersberger Bridge - perhaps, the most uncomfortable place in the city, it wants to be passed, as soon as possible, without being late.
But exactly here, in the middle of the culmination of infinity of the trasportny movement, you see the effective, memorable building attracting the views transparent beauty in the afternoon sparkling and flickering in the dark nights.
Here, parallel to Donnersberger Bridge, there is a building of the Mercedes Benz center, the building show-window borrowing in length about 150 meters. It was constructed in 2003. Huge transparent walls of the house are divided into "cells", in everyone the brand car Mercedes, brightly and beautifully illuminated from all directions is exposed. From far away the building seems filled with toy models of modern cars.
70 models of the latest cars which regularly replace each other, finding the buyers; the last novelties are exposed on a review of the motorists rushing by. It is similar to a huge exhibition with the changing exhibits, certainly, only of brand Mercedes.
The showroom which is filled in with light, auto repair shop, and also round glass tower 65 meters high is behind a huge facade with models of cars. But all views Mercedes turning in December days into the biggest in Munich a Christmas calendar attracts, of course, "the toy world" of cars. Every day from December 01 to December 24 the new window in which the surprise - the new car "is hidden" opens.
Welcome to the Igrushchechny world of Mercedes!
Material: WiP Immobilien GmbH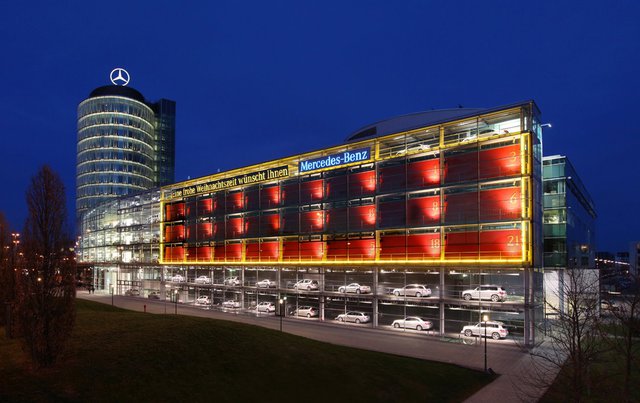 Added: 07.01.2016
View count: 3368