New changes in the issuance of military mortgages
Changes to the legislation on issuing military mortgages in Russia have come into force. This document was signed by the President of Russia on August 2.
Let's focus on the main points that have been corrected.

The list of participants of the accumulative mortgage system (NIS) who can benefit from receiving preferential housing has been expanded. Now the list includes representatives of junior military ranks: sergeants; petty officers; soldiers; sailors.
Their total duration of service under the contract must be at least three years. At the same time, those who entered the service after December 31, 2019 are referred to the participants of the NIS. After the amendments to the law, the number of categories of participants increased to nineteen.
Now to take advantage of military mortgages can all members of the Armed Forces of Russia, FSO of Regardie, FSB, Ministry of emergency situations, Service of special objects at the President of the Russian Federation (GUSP), the military Prosecutor's office.
Inclusion in the register of NIS participants, which was previously mandatory, has now passed into the status of a voluntary expression of will. Now, to be included in this list, the applicant must send a written request. This provision of the law ensures voluntary participation in the state program.

Since 2020, the military mortgage is recognized as the only possible option for obtaining housing from the state for persons who have re-entered the service. In the explanatory note that accompanies the law on the issuance of military mortgages in Russia, it is explained: such a restriction applies to prevent the re-provision of housing.
Those military personnel who have already received monetary compensation for the construction or purchase of housing, can not participate in the mortgage program.
An important point: NIS participants can use service housing or receive monetary compensation for renting housing. These amounts will not be deducted from savings accounts.

Another key feature of the amendments to the law: family members of a serviceman who was excluded from the NIS with the right to use savings, but who did not have time to receive payments in connection with death (death), can receive these savings.

Under the new changes, the military mortgage holders will be open the escrow account. The money on them will be kept until the house is put into operation. This will protect military personnel from unscrupulous developers.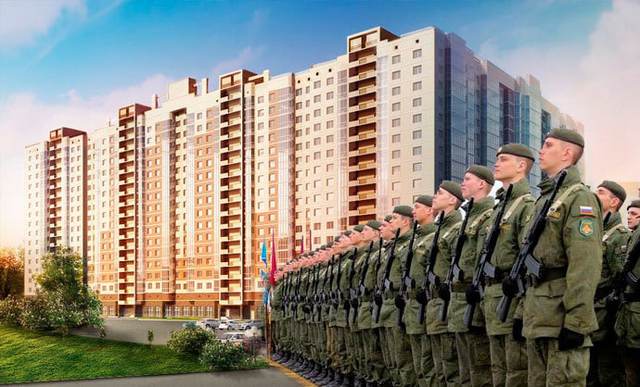 Added: 17.12.2020
View count: 844